Planning for Summer Fun
By Michael Gurtler
The beginning of the summer swim season is just around the corner. Many pools, beaches, lakes and ponds will see high rates of use over the summer weeks. In addition, many nonprofit organizations will sponsor special summer events that involve swimming and other forms of water-inspired recreation. While organization leaders may feel a high degree of comfort sponsoring swimming and water activities, caring leaders should take this time to refresh their understanding of the critical risks and sound risk management strategies.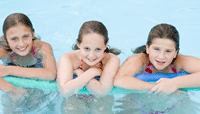 Drowning is a catastrophic risk for organizations that provide aquatic programming and offer aquatic facilities to their patrons, especially those organizations serving large youth populations. Children are the victims in nearly half (1,500) of all drownings in the US each year according to the Centers for Disease Control. Drowning is the second-leading cause of injury-related death for children ages 1 to 14 years with nearly half of those children drowning in guarded pools. In addition to drownings, five times as many children are victims of near-drowning incidents.
Sound aquatic risk management strategies include regular Lifeguard in-service training, scanning and aquatic emergency drills, swim testing and color banding of all youth participants, proper ongoing supervision of Lifeguards, proper parental supervision of children and appropriate safety equipment and maintenance.
Whether you are running an aquatic facility, taking kids to the beach or just swimming in your own backyard here are a few things to remember:
That's What Friends are For - Rule number one is "Never Swim Alone." If you offer aquatic facilities or programs you should also provide certified Lifeguard supervision in ratios accepted by regulations and/or industry standards. Adding a "Buddy System" can help Lifeguards and staff maintain better supervision and control of swimmers. The idea of buddies also encourages a higher level of responsibility with youth. In addition, your non-Lifeguard staff must understand that their duty does not end once the kids are in the pool. They can be extra eyes both in the water and on deck. Groups visiting public swimming locations should bring their own Lifeguards to assist with the supervision of their swimmers. Whether you're at home or taking a vacation, remember to never swim alone.
Know your Limits - Every swimmer should be tested to establish their ability level. Swimmers that are not deep-water proficient should be restricted to shallow water where they can comfortably stand. Non-swimmers in shallow areas with a water depth over their chest should wear a US Coast Guard approved Personal Flotation Device (PFD). And remember that ocean swimming is very different from swimming in pools and lakes. "Under-tow" and waves can affect even the most proficient of swimmers. Do not swim or permit others to swim in ocean areas without Lifeguard supervision or when rip current warnings are posted. Wearing a PFD at the beach is always a good idea for youth and less-proficient swimmers.
Be Prepared - Everyone can learn from our friends in Scouting ("Be Prepared" is known as the Boy Scout Motto). Prepare for swimming fun with a commitment to safety and advance planning. Ask:

Are we ready for inclement weather?
Do all supervisors understand that we must clear the water (indoors and out) during a thunderstorm?
Do we have PFDs that fit and are appropriately sized for all of our swimmers and boaters?
Have we reviewed the venue we're about to visit?
Do we have an emergency plan?
Do we have appropriate supervision?
Is the water quality within acceptable limits to reduce the likelihood of recreational water-borne illnesses (RWI)?

The Great Outdoors – Water-based recreation and hot sunny days go hand in hand. Yet sun and heat can cause stress on the human body. Lifeguards should be protected from overexposure to the sun by wearing sunscreen, having shade, maintaining proper hydration and wearing polarized sunglasses. Lifeguards should not be on duty for more than an hour without a break at outdoor venues. Everyone should follow similar practices to protect themselves from the effects of the sun. Summer weather can be especially harmful to asthmatics and our friends in the insect family can be threatening to individuals with allergies.
Just the Beginning
This article offers a few thoughts on the risks and preparation of water-based summer activities. Sure, it involves work before you arrive at the pool or other swimming spot, but preparation is the best way to increase the likelihood that everyone will have fun and every swimmer will return home safe.
Michael Gurtler is Manager and Senior Consultant for Safe-Wise Consulting and an Associate of the Nonprofit Risk Management Center. Safe-Wise works with hundreds of aquatic venues around the US to strengthen their safety practices. Safe-Wise resources include the Safe-Wise Online Resource Library, and Summer Aquatic Safety Reminder. Mike can be reached at (866) 919-9622 or MGurtler@safe-wise.com.