Enterprise Risk Management
Our consulting rates will increase on January 1, 2017 to $250 per hour/$2,000 per day. To lock in our 2016 rate of $1,800 per day, call Erin Gloeckner, Director of Consulting Services, at 703.777.3504.
According to the author of Organized Uncertainty: Designing a World of Risk Management, Enterprise Risk Management "…should be understood as referring to any broadly based conception of risk management…It signifies any aspiration for a form of risk management practice which is all encompassing in scope, business-focused, and is suggestive of a bird's eye view of organizational life." Source: Michael Power, Organized Uncertainty, Oxford University Press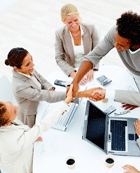 Nonprofit organizations face unprecedented scrutiny and the growing demand to operate with greater transparency and board engagement. As expectations for nonprofits and nonprofit boards evolve, the discipline of risk management is emerging from its status as a misunderstood administrative function to its proper role as integral to the effective governance of the organization. During its twenty-year history the Nonprofit Risk Management Center has advocated that nonprofit boards recognize their role in establishing the risk appetite of the organization and providing appropriate risk oversight.
The Center assists forward-thinking organizations strengthen risk management practices in various ways. One way is through an Enterprise Risk Management engagement that includes a Risk Assessment and the implementation of an ERM Framework. A risk assessment provides a bird's eye view of organizational life through a detailed report on critical risks with accompanying recommendations for strengthening risk management. The Center's consulting team members are independent, objective and sensitive to the culture and circumstances of our nonprofit clients. Our reports reflect our objectivity, deep experience advising nonprofits, and recognition of special areas of concern. An ERM Framework is the strategy and tools that enable an organization's leaders to effectively forecast risk and sustain an ongoing, mission-focused risk management program. Our risk assessments provide a candid assessment and practical recommendations. Our ERM frameworks provide the tools nonprofit staff and volunteer leaders need to sustain and strengthen risk management for the long-term.
In the Center's experience nonprofit organizations often have effective risk management efforts in place, but those efforts may be limited to one or more areas of service or operations. An Enterprise Risk Management engagement elevates risk oversight to the board, establishes protocols for ensuring an effective board-staff partnership in the oversight and treatment of risk, and sets forth specific strategies for monitoring and managing risk across all areas that impact mission fulfillment, including reputation, relationships with stakeholders, governance activities, and day to day operations.
The Center's minimum fee for an ERM Review is $36,000. To inquire about our availability for an ERM engagement, contact us by e-mail or call Melanie Lockwood Herman at 703.777.3504.