Risk Consulting: Different By Design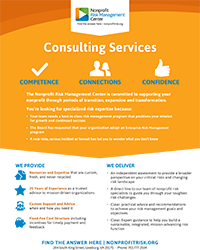 The Center offers risk consulting services because we understand nonprofits and risk. We see risk-taking as vital to nonprofit missions, and we are devoted to helping great nonprofits become all they can be. We want to help you develop and improve your capacity to anticipate and manage risk.
The Center is likely to be an ideal consulting partner for your nonprofit if:
You believe you know quite a bit about risk and risk management but still have a lot to learn
You agree that while your nonprofit mission is terrific, some of what the public doesn't see isn't all that great
The leadership team at your nonprofit is courageous and has integrity
You're willing to jump in and work with us to help us help you
You're eager to receive candid feedback and practical advice
You want to work with a team of nonprofit risk specialists. (Note: We don't offer accounting/audit services, we're not a law firm, and we don't sell insurance.)
We probably can't help you if:
You believe you already see your risks from every possible angle
You believe your nonprofit is so unique that the strategies, tactics and risk lessons of other organizations couldn't possibly be useful
You prefer working with a consultant or team of consultants from a very large firm where consultants are interchangeable
You don't have a sense of humor
Your maximum budget for an external consultant is less than our daily rate of $1,800 (Note: our fixed fee engagements are based on our estimate of the days required to fully address the scope of services in our contract. A typical engagement requires a 10-20 day commitment.)
Our consulting rates will increase on January 1, 2017 to $250 per hour/$2,000 per day. To lock in our 2016 rate of $1,800 per day, call Erin Gloeckner, Director of Consulting Services, at 703.777.3504.
Self Service Help is Available
Concerned that we're not a good fit? Don't despair. Perhaps one of our 5 self-service options will meet your needs.
Membership - If you couldn't possibly spend more than $900 annually for risk help, our Affiliate Member program may be just what the risk doctor ordered. Enrolling is simple. Complete our online form and pay $75 per month for an array of valuable benefits, including unlimited RISK HELP™ provided by Center experts by telephone or email.
Speaking Services - If you're looking for a dynamic, well-prepared keynote or workshop speaker to enlighten, inform, and entertain your members, conference attendees, leadership team, staff or board, contact Kay Nakamura to ask about our CEO's availability to speak at your event.
Policies by COB Today - If you need to create specific RISK POLICIES before close of business today, buy a subscription to our cloud app, My Risk Management Policies and get started without delay!
A Risk Roadmap - If you need to create a RISK MANAGEMENT PLAN before close of business today, or before the accreditation team arrives later this week, buy a subscription to our cloud app, My Risk Management Plan and get started today!
Self-Study - If you want to study the discipline of nonprofit risk management and learn on your own, purchase one of the books in our Bookstore to begin your self-study or check out our easy to use and educational cloud apps.
Our Clients
Click here to view a partial client list.
We're Nonprofit Risk Experts
Our areas of expertise include:
Designing modern, risk-themed web portals featuring online courses, risk policies, and resources for the chapters, programs, and field offices of complex national organizations
Designing multi-faceted youth protection programs that reduce the chance of abuse and ensure an appropriate and legally defensible response when allegations of misconduct are made
Advising boards and senior leadership teams about governance risk, including the board's responsibility for risk oversight, and the need for a workable, accountable governance structure
Strengthening or expanding existing risk management practices to include an "enterprise risk management" approach
Helping CEOs and senior teams update employment practices and human resource policies, develop practical succession plans, and manage the legal risks that arise from personnel changes
Advising executive teams about the financial and fundraising risks that arise from operations and the implementation of board-approved strategic plans
Designing frameworks and risk mitigation approaches to address risks that arise due to partnerships, collaborations and merger opportunities
Developing mission-tailored policies and training to address the risks arising from the use of volunteers
Managing risks from international activities or operations
CONTACT US IF YOU NEED…
An out-sourced risk manager. If your nonprofit is too small to afford a F-T risk manager or risk management department, we can help! Our staff can help you develop risk management goals, design practical tools, and train your leaders, managers and line-staff to embrace a culture conducive to risk awareness and safety.
Training for dozens, hundreds or thousands of paid and volunteer staff through on-site programs or interactive webinars featuring custom content on a host of critical risk topics. Past clients of our webinar services include large associations, insurance companies, federated nonprofits, nonprofit networks, and more.
A custom one or two day risk management conference on topics of importance to your members, clients, chapters, affiliates, or insureds. The Center has more than 20 years of experience as a conference sponsor, host, and facilitator. While you focus on getting the word out to prospective attendees, we'll develop a high quality education program, confirm speakers, prepare substantive conference materials, and set up an easy-to-use online registration process. We can also prepare and send informative emails to keep your attendees up to date as the conference date approaches.
A SAMPLING OF RECENT PROJECTS
The Center delivers client-focused consulting assistance. Examples of recent projects include:
A Youth Protection Review for a large children's hospital
Development of a cloud application that helps local leaders of a national anti-poverty organization unearth and understand their critical risks
Design and implementation of an Enterprise Risk Management Framework for a large, faith-based organization
Design and delivery of an on-site training program for staff responsible for managing an Employee Assistance Program at an international scientific organization
Design of a multi-course, virtual risk management classroom for a large organization dedicated to serving nonprofits
Completion of a Risk Assessment to surface the risks facing a prominent grant-making organization;
Drafting of concise governance policies for a quasi-governmental agency
Review of the performance management system at a large, international nonprofit and development of specific recommendations to improve the organization's approach to evaluating personnel
Review of existing risk management and human resource policies and drafting of updating and new policies in preparation for an accreditation visit
Development of an online course on business continuity planning for an international nonprofit
Design of custom cloud applications for a national youth-serving organization and its 900+ affiliates.
To inquire about the Center's consulting capabilities and availability, contact Kay Nakamura at (703) 777-3504 or Kay@nonprofitrisk.org.