My Risk Management Policies, Version 2.0 helps you create custom risk policies for your organization in a matter of minutes. Need well-written policies? This web app makes policy drafting easy.
Stop Making the Same Mistakes
My Risk Management Policies eliminates the most common mistakes in policy drafting, such as:
Copying another organization's policy that is too broad, too narrow or just plain wrong for your nonprofit
Cutting and pasting text from several sources resulting in a crazy patchwork policy with contradictory language
Keeping outdated policies in place because you can't afford the time or $$ required to rewrite them
Draft Policies the Right Way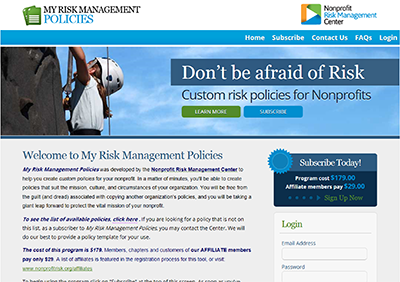 After completing the quick registration process, search by keywords, categories or peruse an alphabetized list of 150 templates. Each template offers many options to consider. Some of the templates force you to make practical choices. For example, you might prefer an informal style over formal language. Or perhaps you want to strictly prohibit something that other nonprofits allow!
With My Risk Management Policies, Version 2.0, custom-fitting policy language to suit your nonprofit is easy and dare we say… fun!
Upload your logo when you register; you will have the option of featuring it on the policies you create.
Peruse policy categories to quickly search through the 150 policy templates.
Select the category or name of policy you want to create, then point and click to select the sentences, paragraphs and sections you want to include in your custom policy.
Click Create My Policy to add your custom policy to the virtual filing cabinet.
Click the edit tool to make changes within a draft policy. For example, you can change the title of a policy, update language within a section, move sections around, or delete sections you simply don't need. This web app is flexible and the possibilities are endless!
Click on the email icon adjacent to a policy to share the draft with members of a staff team or committee.
What Makes This Web App Cool?
You can create just one risk policy or all 150, it depends on what your organization needs!
Once you create a draft policy, it will remain in your virtual filing cabinet until you delete it.
Save Word, PDF or HTML versions of your draft policies to your hard drive.
Log back in at any time to revise drafts, create another policy, or share items in your virtual filing cabinet with colleagues.
Version 2.0, What's New?
We're excited to announce some terrific new features, plus a bold new design. Many of the new features were developed with client feedback in mind. You spoke and we listened!
Multiple users, one account — The new version has two levels of users: Account Holder and Added User. This means that two or more staff from one organization can collaborate on the drafting of policies. Want to get your outside counsel involved? No problem! The Account Holder for your nonprofit may grant system access to expert advisors through the "added user&tdquo; feature.
Policy drafting tips — We've added policy drafting tips at the top of many templates. This is our chance to offer a few hints from our years of experience drafting and editing risk policies for nonprofits!
More policies than ever before — We have added nearly 50 new policy templates and updated many of the templates in the first version, and we're not stopping there! As always, we welcome your suggestions for new policy types, new policy language, policy options and more. Send your requests to info@nonprofitrisk.org.
To begin developing customized Risk Management Policies for your nonprofit, click here.
Want to increase loyalty to your brand or provide a wonderful service to your members, affiliates or customers? Contact us about developing a special, co-branded edition of My Risk Management Policies. To inquire about pricing and our design/delivery schedule, contact Kay Nakamura at (703) 777-3504 or via email.