2006 Risk Management and Finance Summit for Nonprofits
September 18-20 — Pasadena, CA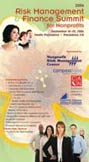 When you can't see the forest for the trees, it's time to give yourself permission to stand waaaaaay back from the flora and really see the large tract of wooded land in its entirety.
Can't find the time? Take a time-out. Schedule yourself to attend the Risk Management and Finance Summit for Nonprofits to regroup and refuel for 2.5 days. You and your organization will benefit from this dedicated period of learning, networking, sharing, questioning and introspection.
Register now (by August 7, 2006) and immediately save your agency $100 off the price of participation.
Conference highlights include:
Keynote presentations by: Bill Kizorek and John Powers (Two Parrot Productions), Bill Stainton (Ovation Consulting), and Clark Kent Ervin (former Inspector General of the Department of Homeland Security).
25 informative workshops offering practical insights on the critical risk management issues facing your nonprofit.
Roundtables for HR Directors, CEOs and Finance Directors.
A special program for insurance agents and brokers specializing in the nonprofit sector (See the agenda on Wednesday morning).
Program Sneak-Peek
As you're planning your schedule for Pasadena, you won't want to miss Workshop #19, Risk Management Case Studies. Scheduled for Tuesday, 9/19 at 3:00 pm, the session description is as follows:
If you are the kind of person who enjoys a session that is energizing, life affirming and will leave you with a halcyon view of life at your nonprofit then by all means do not attend this disturbing workshop. But if you would rather face reality in its entire frightening and frankly shocking array then read on. This problem-solving workshop brings cases drawn from real events at real nonprofits (Don't worry; we won't mention you by name). Alcohol use, pluralism challenges, sexual harassment, improper use of the organization's credit card and volunteer enthusiasm gone wrong, very wrong, for example. Participants will be presented with interesting case studies and have to answer the burning question, if this happened at our agency (Heaven Forbid!), how would we deal with it? Strengthen your analytical and problem-solving skills with these thought provoking aerobics for your mind. Attend to see if your nonprofit is one of this year's studies; leave with tools to make sure you won't be one next year!