2008 Risk Management and Finance Summit for Nonprofits
Spotlight on Speakers!
This year's Summit is shaping up to be an exciting and engaging event: our best ever! The Summit always features engaging keynote speakers, excellent workshops and networking opportunities. This year the Center is pleased to announce that the kick-off keynote speaker is Erik Wahl. Erik is a recognized artist and speaker who challenges organizations to transcend mediocrity through creativity. His unique understanding of "vision" traces back to his training as an artist. Through this unique talent, Erik emphasizes that a clear vision is the key to successfully navigating tomorrow's uncharted waters.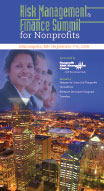 Attendees at the Summit's kickoff keynote session will be treated to "The Art of Vision," a program specifically designed to help organizations utilize unconventional wisdom and build a vision for their future. By breaking apart traditional thinking, Erik challenges and inspires his audience to redefine commonly held assumptions and misconceptions about "creativity," "goals," "success" and "vision." Erik will show how you and your organization can discover creative skills and identify a personal style for inspiring yourself and others to rethink vision and purpose. The principles in this uplifting and highly practical program will redefine the role of a leader as an artist as well as an architect and visionary.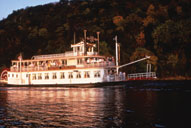 After a full day of day of training and networking, it's time to take in the sites of vibrant Minneapolis. Minneapolis offers something for everyone! The Minneapolis Marriott City Center is conveniently located in the heart of a city that is thriving with culture, entertainment, shopping and nightlife. The Marriott City Center is connected to it all through the largest glass tunnel walking system in the world, linking nearly 80 blocks of downtown attractions.
Among the many nearby attractions is the Walker Art Center and Sculpture Garden. The Museum offers several galleries showcasing an impressive collection of fine art and a free, four-acre public park featuring a lovely sculpture garden.
The Guthrie Theater is perfect for culture vultures. The Theater has been called "a 21st century dream factory" by Time magazine. The Theater boasts three stages, featuring some of the best talent in the City.
For shopping and site-seeing, Nicollet Mall is an 11 block pedestrian mall that is home to world-class shopping and dining. Nicollet Mall and nearby Hennepin Avenue form the heart of downtown Minneapolis. Nicollet Mall is also home to the iconic Mary Tyler Moore statue.
Tired of walking? You and your group might enjoy a leisurely riverboat cruise on the 125-passenger Minneapolis Queen floating down the Mississippi River. This brand new paddle wheeler is the perfect way to experience the history of beautiful downtown Minneapolis.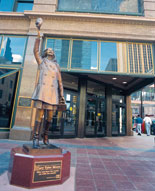 We encourage you to book your hotel accommodations early at the Marriott City Center, as we anticipate that rooms will fill quickly! To reserve your room, go to www.nonprofitrisk.org and click on the link for the Marriott.
We'll see you in Minneapolis!
Photo credits: Skyline of Minneapolis on brochure cover: Bruce Challgren/Meet Minneapolis; Jonathan Padelford Boat: MeetMinneapolis.com; Guthrie Theater: Roland Halbe; Nicolett Mall: MeetMinneapolis.com
May/June 2008 Risk Management Essentials