The AFL-CIO Split: What it Means to Non-Union Nonprofits
By Karla Grossenbacher, Partner, Seyfarth Shaw LLP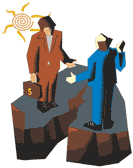 At the end of July 2005, during the AFL-CIO's annual convention in Chicago, four of the largest AFL-CIO unions — the Service Employees International Union (SEIU), the International Brotherhood of Teamsters, UNITE-HERE and the United Food and Commercial Workers (UFCW) — all withdrew from the AFL-CIO. These breakaway unions along with the International Union of North American Laborers, the Carpenters Union and the United Farm Workers Union, have formed their own seven-member coalition, known as the "Change to Win Coalition."
The Coalition unions already have approximately six million members, which is more than one-third of all union members in the United States. Why does this matter to nonprofits? The Coalition clearly plans to place a much greater emphasis on organizing efforts. One of the stated reasons for their dissatisfaction with the AFL-CIO was that too much money and energy were being spent on political agendas?not organizing employees. As a result, the split will likely lead to more aggressive organizing activity at both the local and national levels as the competition between the AFL-CIO unions and the Coalition unions increases, with each trying to organize more employees than the other. Nonprofit employers are especially at risk.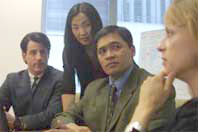 Rightly or wrongly, nonprofits are viewed as being "behind the curve? with respect to wages and benefits. Moreover, it is often the case that the Human Resources Director for a nonprofit?if there is one?wears a number of hats in the organization and is spread so thin that the business of maintaining a positive work environment among employees is not given much attention. Both of these factors result in workplaces that are ripe for union organizing.
Unions regularly gather information that will help them determine what issues are of greatest importance to prospective union members. For example, in 2004 the ACL-CIO conducted an "Ask a Working Woman Survey." The online survey, which was completed by 14,000 women, revealed that "finding and keeping a job with basic benefits in today's economy? was a top concern. Approximately one-third of the survey respondents indicated that they did not have access to affordable healthy insurance.
Experts view employees? perceptions about lack of benefits as key concerns for union organizers to exploit. Unions often promote their ability to obtain wage increases and better benefits for workers. Some unions advertise their ability to provide "third-party intervention? for employees who are unhappy with their work situations or believe they are being treated unfairly.
In this dynamic climate of dramatic change of historic proportions within the labor movement, it is important for non-union employers to review their human resource policies, practices and procedures to ensure that they are continuing to maintain a positive work environment. Unions often spend months researching an organization looking for weaknesses and vulnerabilities before launching an organizing campaign, and nonprofits can make enticing targets for union organizers. Now is the time for nonprofit employers to prepare for the possibility of aggressive organizing tactics. This should include a recommitment of resources to positive employee relations training and employee communication programs, as well as an examination of the work environment for signs of union organizing.
The key lesson from the split is that nonprofit employers should be aware of developments in the union movement and the possibility of union organizing in the nonprofit workplace. Avoiding any potential workplace surprise requires considering the possibilities long before they materialize.
For more information on recent union developments, labor statistics and the implications for human resource professionals, visit the following informative Web sites: