January 15, 2009

Latest Edition of Risk Management Essentials Now Available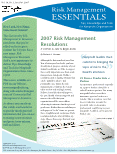 The January edition of Risk Management Essentials is now available. Topics featured in the new issue include:
Managing Risk in Turbulent Times
Resolve to be a Risk-Aware Nonprofit (introducing the Center's new online tool!)
Employment Law Changes for 2009
Culture Shock 2009: Embracing Risk Management is Necessary, But Never Easy
Professional Development and Training Calendar
To download a PDF of the entire issue, click here. View articles from the current issue on the Center's Web site.
Professional Development Opportunities
LEARN AT YOUR DESK — The Center's 2009 Webinar series began last week with the first of twelve informative, affordable programs. The cost for the entire series (12 hours of professional training!) is only $399. Attend upcoming programs "live," or view and listen to the recorded programs at your convenience. Single webinars are available for $59 each. View the list of upcoming programs and access our online registration process.
MEET OUR FACULTY — The Center will deliver three regional conferences in 2009. The first event will be held on February 19 at The South Carolina Archives & History Center in Columbia, SC. Our experts will travel to Seattle, WA in March for "Building a Foundation of Success," March 16 at the Bell Harbor Conference Center. The series wraps with two days in Kennebunkport, ME at The Colony Hotel (June 11-12). For program information, sponsor details and our easy online registration process, click here.
MARK YOUR CALENDAR — The Center's 2009 Risk Management and Finance Summit for Nonprofits will convene September 20-22 at the brand-new AT&T Executive Education and Conference Center in downtown Austin, TX. Mark your calendar and plan to join us for this content-packed program. Details on the Summit keynote speakers and workshop topics will be released soon.
© 2009 Nonprofit Risk Management Center