Staff
We've Moved!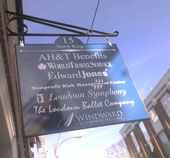 The Center moved to historic downtown Leesburg, Virginia in late 2007. We have upgraded all of our office systems in order to serve you better. Our address is: Nonprofit Risk Management Center, 15 N. King Street, Suite 203, Leesburg, VA 20176. Our telephone remains: (202) 785-3891. Our fax number is: (703) 443-1990.
In a world that is fraught with danger, it is comforting to know that Melanie Lockwood Herman is holding on tight to the handlebars of the Nonprofit Risk Management Center. The Center provides training, technical assistance and informational resources to help nonprofits take a practical approach to managing risk so that they can fulfill their missions and stay out of trouble.
A prolific author of a more than a dozen comprehensive (and comprehensible!) guides on various risk management topics, Melanie has delivered countless workshops, seminars, and keynote presentations for organizations simply unwilling to leave success to chance. Melanie earned a Bachelor of Arts Degree in Urban Affairs from American University (Washington, DC) and a Juris Doctor from George Mason University (Arlington, VA). She is a member of the District of Columbia Bar Association.
In August 2007 Melanie was named to the 10th annual NonProfit Times Power & Influence Top 50, a list of "executives and thinkers ... selected for the impact they have now and for the innovative plans they are putting in place to evolve the charitable sector." In August 2008 Melanie was again recognized and is among those on The NPT Power & Influence Top 50, Class of 2008.
A calculated risk taker, Melanie loves raw fish, scalding coffee, and riding her 1964 Norton Electra or 1970 BSA Bantam motorcycles (she always wears her helmet). To be on the safe side, she also serves as Lay Leader and organist of her church.
Upcoming Speaking Engagements
January 28, 2010—"Managing Governance Risks," The Center for Nonprofit Resources, Toledo, OH
February 9, 2010—"Risk Management, Transparency and Science: A Closer Look," Research Institute for Fragrance Materials, West Orange, NJ.
May 28-29, 2010—"Managing the Organization's Risks," and "Managing the Organization's Human Resources." Certificate in Nonprofit Leadership & Management, Austin Community College and Texas Association of Nonprofit Organizations, Austin, Texas
June 11, 2010—"Financial Risk Management: 10 Lessons You Can't Afford to Miss," Camp Finance, The Nonprofit Center, Tacoma, WA (www.npcenter.org)
July 10, 2010—"Risk Management," Leadership Series, General Assembly, YMCA of the USA, Salt Lake City, UT
Carlye Christianson, Senior Counsel and Director of Special Projects
As a former civil trial lawyer, Carlye Christianson was a front row witness to risks that had morphed into full-blown legal disputes. No longer a litigator but still a lawyer, she now focuses on helping nonprofits employ sound business practices in their operations, management, strategic and program planning and implementation. Her approach to risk management has been focused on developing and implementing protocols that recognize yet limit risks and enable organizations to concentrate on their missions. She brings to the Center working knowledge of the challenges facing nonprofits from the perspective of staff, volunteer, and board member.
Originally from California, Carlye served as Director of Operations for the United Way of San Diego County, where she was responsible for internal operations. After moving to the Washington area in 2004, she was Vice President of Community Impact for the United Way of the National Capital Area, where she was responsible for matters concerning the over 850 member agencies, including eligibility and the grant program, as well as development of community initiatives.
Raised with the desert colors of California, Carlye now relishes the rich greenery of the Mid Atlantic. Armed with oven mitts, sunscreen and the occasional mean hook, she relaxes by indulging in her passions for entertaining, hiking and golfing.
Sue joined the Center's staff in September 2008 as our Office Manager. As our "front line" Sue is the person who greets office visitors and the nonprofit leaders who call the Center for risk management advice. With a diverse background as a business founder, owner, and sole proprietor, Sue has terrific experience in all aspects of business management, including planning, customer service, working with clients and their customers, invoicing, payroll and purchasing. We think Sue's background is an ideal fit for an organization that seeks to inspire and support responsible risk-taking in the nonprofit sector.

As a "life-long" volunteer, Sue currently volunteers as a Board Member of Loudoun Therapeutic Riding. She also spends time volunteering with children who participate in the organization's therapeutic riding program. Sue is a former Preschool Sunday School Director and Team Coordinator for a local church. Her volunteer service has taken her as far as Guatemala, where she volunteered at a children's home there.

When she's taking a break from her duties at the Center and her diverse volunteer roles, you'll find her in rural Loudoun County hanging out at the farm with her daughter's horse, Smart Sailena, fondly known as Grizz. Sue enjoys practicing her horsemanship skills, working with children, cooking and traveling. An accomplished cook, she isn't afraid to fire up the oven to 500 degrees and prepare homemade pizza from scratch. She keeps the number of the nearest pizza delivery outfit close at hand "just in case."
Associates
The following professionals provide invaluable support that brings the Center's mission to life. Throughout the year these dedicated team members support our publishing, software development, training and consulting programs. When you engage the services of the Center (or purchase one of our products or tools), your nonprofit benefits from the expertise and dedication of a diverse array of talented professionals.
Michael Gurtler
Mike Gurtler is a risk management professional who enjoyed 25 years as a YMCA professional before forming Safe-Wise Consulting in 2007. Safe-Wise works with nonprofits all over the US helping to nurture sound safety and risk management practices. Mike subscribes to the Center's broad but practical approach to risk management and tries to avoid being type-cast as an expert who tells people what they cannot do. Mike is a key team member in the Center's youth-protection, aquatic safety and recreation consulting practice. According to Mike, "I think the challenge for insightful risk consulting is being able to say "Yes" in a responsible way that is acceptable to the organization and its mission." Mike has produced a substantial body of topical resources on various risk management topics and is a capable and popular trainer and presenter.
Mike lives in Maine with his family: Michele (spouse of 17 years), Mason (son of 9 years going on 30), Bella (the dog) and Lucy (a very independent cat). The Gurtler family braves the New England winters in order to enjoy the mountains, lakes, ocean and small town community living. An avid basketball player, Mike can often be found at the local Y chasing after his errant shot attempts and setting up orange safety cones.
Joe Risser, CPCU, ARM-P
Joe Risser is a risk management consultant who presents and writes on risk management topics in the areas of special events, student interns, camps, contracts, insurance requirements and waivers. Joe's practice, Risk Management Design, is based on the California Central Coast. Recently retired from a career in higher education risk management, he consults part-time between outdoor adventures and travel. Prior to leaving the world of higher education, Joe served as Director of Risk Management at California Polytechnic State University in San Luis Obispo. Joe's expertise is invaluable in Center projects involving nonprofit and public entities with special events, facilities, workplace safety and camping exposures. Joe's professional metamorphosis from camp director to a public entity risk manager is fitting for a former Boy Scout who loves to keep people safe. Years of service in Search & Rescue operations taught him the value of preparation and the hard lesson that even with good planning, bad things can happen. Thankfully Joe took to risk management like a duck to water, and quickly learned that applying the basic tools and lessons of risk management can often keep the bad thing from happening—or at least lessen the negative impact.
Alan Strand
Alan is a nonprofit management professional who is oddly passionate about nonprofit accounting and financial management. He provides financial training and consulting to nonprofit organizations in California and has presented workshops and seminars across the U.S. Before going into consulting, Alan was the Director of Finance and Financial Services for the California Association of Nonprofits, managing the organization's money and leading its financial training and consulting programs. Alan is pretty sure no one went into nonprofits because they like finance and risk management, but notes that those are the areas that can get charitable organizations into a lot of trouble. He enjoys working with organizations to get their systems in shape so they are able to focus on their missions. When not consulting or blogging about nonprofit accounting at www.notforprofitaccounting.net, Alan can be found in his wood shop, trying to keep all his fingers while making wooden toys.
Don Withrow
If you ask Don what he does for a living he'll tell you he's a Geek. Actually, he is the principal of Don Withrow Consulting, a Fairfax, VA-based firm specializing in mission critical application development. These days much of his development work is for web applications and the backend services that support those applications. Don's expertise is an ideal fit with the mission of the Nonprofit Risk Management Center, where he serves as a key team member in all of the Center's web application projects. Don says that the real fun in his work comes from the variety of people and challenges he finds working with his clients from the nonprofit, financial, publishing, training and legal communities.
When Don isn't working, which is seldom, you might him find riding his Harley on the beautiful back roads of Virginia, West Virginia and Maryland. Or, you might find him at the Loudoun or Alexandria campuses of Northern Virginia Community College or George Mason University teaching students how to learn to ride a motorcycle and manage the risks along the way. Don is something of an expert in motorcycle-related risks. He began riding at age 12, and although you wouldn't know it otherwise, he claims this was "a very long time ago."